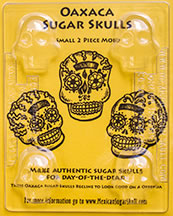 Product Price
$18.00

Click to add this item to cart.
Product Shipping

Free Shipping

(Free)

Pick up in Store

(Free)
Product Description
Four 2-sided sugar skulls
4 skull faces + backs per mold, 2 sheets
2 1/2″ high x 2″ wide x 2″ deep
These small Oaxaca sugar skulls recline perfectly to look good on an ofrenda. They have the same look as all the Oaxaca line – about the size of the Altar 2 1/2 " skull, but instead of looking straight forward, this one reclines. They're really cute!
The front is slightly longer than the back of the head. Great for sugar skull makers who want to make lots of little skulls as give-aways, decorate tops of cakes or place setting gifts. Very happy friendly looking skull design.
Use this mold for sugar skull mix, tempered chocolate, candy coating wafers, colored ice and other mold projects!