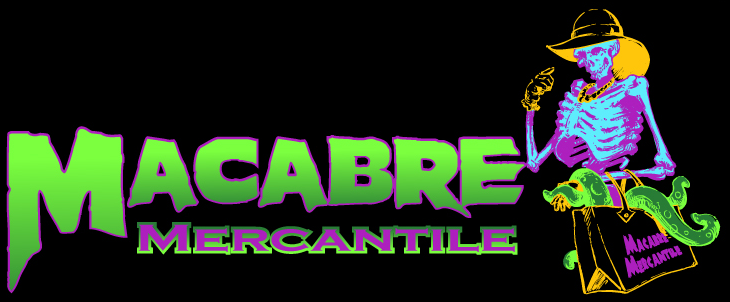 Wickedly Decadent Items
Want to be Wickedly Decadent?
macabre - muh-KAHB - adjective:
1. disturbing and horrifying because of involvement with or depiction of death or the supernatural. "a macabre series of events"
mercantile - MER-kan-tile - noun:
1. a general store.
NEW - lower shipping rates on all your items. FREE SHIPPING for orders of $100 or more.

Apparel & Accessories


Tired of being just another black clothed zombie in the crowd? A trendy, high quality purse could add a bit of glam to your grave. A quirky backpack adds a taste of fun and will have your friends wishing they had something better than a plain plastic tote.


Jewelry


Bored with Celtic crosses or pentagram jewelry? Take your style to a new high with unique jewelry. The highest quality necklaces, earrings, rings, and other jewelry pieces can be found for a very reasonable price. Costume jewelry and Designer jewelry created by our artisans. Our designer jewelry is all handmade, you'll never find another one exactly like it or have to worry that someone else is wearing the exact same thing. This isn't your local jewelry store product.


Gifts & Decor


What about a present for that family member you have such a hard time shopping for? If you or someone you know loves horror or the offbeat the perfect gift can be found here. From handmade statues to tentacle pens; from metal skulls to Day of the Dead products – we've searched long and hard to find it just for you.




Skulls


Nothing says macabre like a grinning skull. If it is a skull, you'll find it here. Hand made metal or clay skulls to decorate your crypt. Glass ornaments for your tree. Skulls, skulls and more skulls.


Day of the Dead


Dia de los Muertos is popular in many Spanish speaking countries. We carry items that will let you host the most authentic party or just display your love for your ancestors and all things skeletal.


Masks


Need a fast costume? How about something for that fancy dress ball with the Count? Or maybe you just want something beautiful to display. Quality masks to complete any look.




Barware


Everyone wants to make a statement when they're sipping their favorite beverage. Macabre barware will hold your beverage in stylish stainless steel flasks or open your bottle with heavy steel bottle openers designed to impress your fiends.




Macabre Mercantile is a purveyor of the decadent and chic where gothic style meets classy horror.

You can find us through either URL - http://macabremercantile.com or http://wickedlydecadent.com
Read the Macabre Blog to learn about our newest items and see what's happening in out crypt. Follow us on Twitter or Facebook to keep abreast of the buzz at the Mercantile while on the go.
Macabre Mercantile - shop online for macabre apparel, gothic jewelry, and other wickedly decadent items to complement your chic macabre lifestyle. From the horror convention to the rave dance floor we have something to make you fabulous. Jewelry, clothing, and decor for the discerning macabre or gothic enthusiast, horror fan or for celebrating Day of the Dead
Now click a category above and enter the world of the Wickedly Decadent.
Upcoming Events
---
| | |
| --- | --- |
| | Best Vendor Booth 2015 at Scarefest 8 |
---
---